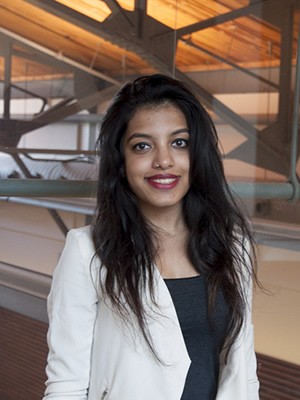 Year of Study: Second
Home Town: Muscat, Oman
Programs of Study: Major in Human Biology and minors in Psychology and Statistics
College: Woodsworth College
Why did you choose U of T?
I chose U of T mainly because it is located in the centre of a beautiful city. I had always lived in a slow-paced environment and it was time for a change! Furthermore, the independence that U of T offers in terms of selecting courses and day to day activities is boundless.
What advice would you give to first year students?
My advice to first year students would be to step out of your comfort zone. This will most certainly boost your confidence and make you more prepared for the ample opportunities that will come your way, especially in U of T.
What is your favourite thing about the University of Toronto?
My favourite thing about U of T is its International atmosphere. I have met so many people from so many diverse walks of life and it is always interesting to hear about their different experiences.
What has been your favourite course so far?
My favourite course so far is PSY 100 - Introductory Psychology. I took this course as a breadth requirement and I immediately fell in love with the content because of its intriguing mix between pure Science and Social Science.
What unique learning opportunities have you participated in?
I was lucky to have been part of the Woodsworth FLC (First Year Learning Community) since I met a lot of people and got great input on courses. 
Where is the best place for coffee/dessert on campus? 
One of my favourite places in Toronto is a dessert place, Fresh. Being just off campus, it is my go-to place after a long week!