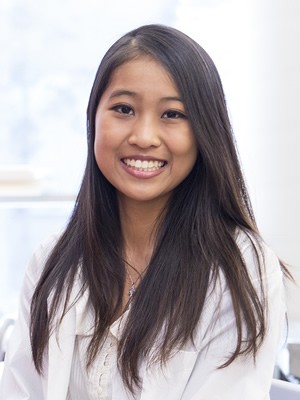 Year: Fourth
Home Town: Singapore, Singapore
Programs of Study: Neuroscience and Cognitive Science
College: New College
Read her story on the Arts & Science News page
What advice would you give to first year students?
I would advise first year students to try to have a balanced lifestyle and to have an open mind. Academics are important but it's important to have fun too! Join a club, volunteer, meet new people and explore the city - university is the chance to find new interests both academically and personally.
What is your favourite thing about the University of Toronto?
My favourite thing about the University of Toronto is the campus. The buildings and the scenery are beautiful year-round, so walking around campus is always nice.
What unique learning opportunities have you participated in?
I was a part of a First-Year Learning Community (FLC) in my first year, which allowed me to meet other students in the same program. I thought this program was unique because I was able to meet other students that I may not have met without FLC, and I felt that the information they provided was really insightful.
I took part in the Research Opportunities Program in my second year, and I feel that this course has really shaped my perspective on what I want to do in the future. Taking part in research early in my undergraduate career gave me the invaluable experience of working closely with a professor on a project and gain hands-on experience that can't be attained in a lecture setting. After my ROP, I was keen on participating in more research, and growing as a scientist.
What surprised you the most about university?
I was really surprised that everyone is really friendly on campus, which makes meeting new people and making new friends easy.
What support service have you found most useful at U of T?
I thought that the New College Career Mentoring Program was really useful at U of T. This mentoring program paired me up with a professional that was currently in the field that I was interested in pursuing after my undergraduate studies. My mentor was able to provide me really good advice on the steps that I need to take in order to pursue graduate studies