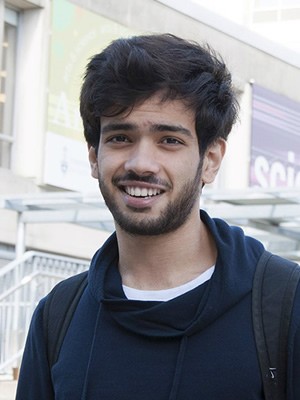 Year of Study: Third
Home Town: Karachi, Pakistan
Programs of Study: Economics, Statistical Sciences and Political Science
College: St. Michael's College
Why did you choose U of T?
It's one of the best universities in the world for the program I wanted to get into and the job prospects of its graduates are really good.
What is your favourite thing about the University of Toronto?
I really cannot stress how much I love the fact that I get to live in one of the greatest cities on the planet
What has been your favourite course so far? 
I am currently taking a Statistics course called Methods of Data Analysis and it has to be one of the most challenging courses I have ever taken. I have always enjoyed Statistics and playing around with data; this course is also my first insight into Statistical Computing.
What surprised you the most about university? 
The fact that you can literally be anyone you want and still be accepted.
What unique learning opportunities have you participated in? 
I took a First Year Seminar in my first year which was basically a class of about 20 people. Our main focus was Contemporary Economic Systems; there was a great one-on-one interaction with my classmates and the professor.
Where is the best place for coffee/dessert on campus? 
The Timmy's (Tim Hortons) in Sid's Café is always a convenient stop between classes.
My U of T is…
Literally the best experience of my life.